THE Cristal D'Arques Paris© BRAND

Cristal d'Arques Paris embodies a modern lifestyle for consumers looking for quality and elegance without breaking the bank.
Cristal d'Arques Paris is a brand that showcases the ARC group's expertise and its authentically French creations.
Its iconic, timeless and contemporary collections guarantee scintillating and festive moments.
DISCOVER
our latest arrivals!
French Origin Guaranteed
Proud to be made in France
Cristal d'Arques Paris glasses and articles have "Origine France Garantie" (French Origin Guaranteed) certification.
This label is awarded by PRO FRANCE, an association that groups companies and all players who wish to participate in the voluntary, innovative and transparent certification of the French origin of products.
It is the only independent label certifying the origin of a product, regardless of its category.
An ultra-resistant material
SUPERIOR SOLIDITY
Ultra-innovative, Cristal d'Arques Paris glasses are up to 50% more resistant than market standards.
COMPLETE TRANSPARENCY
What is our expertise based on? A unique formula, combined with production techniques that use the very best raw materials. To enjoy exceptional transparency, with an index of 98.8, higher than market standards.

Cristal d'Arques Paris glasses are as brilliant and pure after 300 dishwasher cycles as the day they were made.
THE MATERIALS
Glass FINE and 100% HEALTHY
Made of Krysta
The Krysta is a high-end lead-free crystal developed by Chef&Sommelier. Ultra transparent and very resistant, it has been designed for intensive use in a professional environment.
Made of ultra transparent glass
High-end glass, ultra transparent, 0% colouration, 100% purity.
THE ADVANTAGES OF OUR PRODUCTS
In order to guide you towards the products most adapted to your needs, our packaging has been studied to highlight the advantages of our products. Discover, below, the symbols, which describe the specificities of these products
Perfect acoustics
Item made of lead-free crystal with a sound close to that of the finest crystals.
Dishwasher-safe item
Item designed to withstand several hundred dishwasher cycles , guaranteeing a long-lasting shine.
Lead-free crystal
Item made of Cristallin, a lead-free crystal with incomparable brilliance, sound and purity.
Item made in France
This item is manufactured by our experienced collaborators in Arques, in the Pas-de-Calais region.
Item made in Europe
This item is manufactured in Europe, in accordance with the standards of the brand.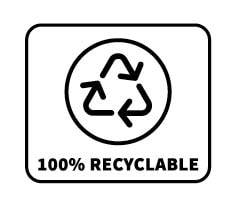 100% recyclable
Item made of 100% recyclable and/or reusable material.