Spring is on its way
SPRING
IS ON ITS WAY

The ideal season for outdoor dining!

The days are getting longer, flowers are beginning to brighten up the garden and the birds are singing at dawn... Spring is on its way! The arrival of better weather makes us all want to appreciate the outdoors and enjoy a barbecue, lunch or relaxing apéritif outside once again. Whether you have a balcony, a garden or patio, make the most of these special moments to create a rustic, cheerful atmosphere around a colourful table.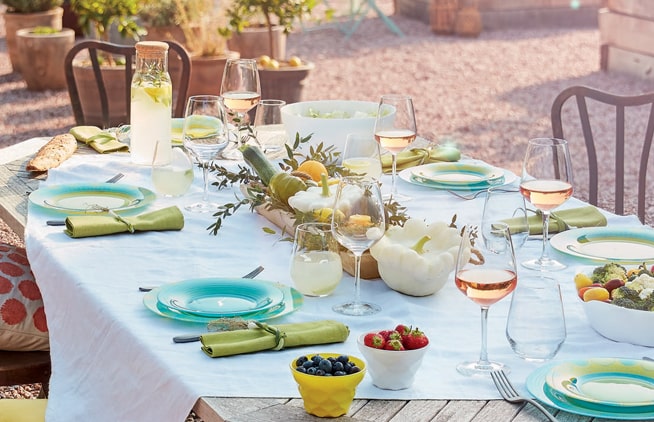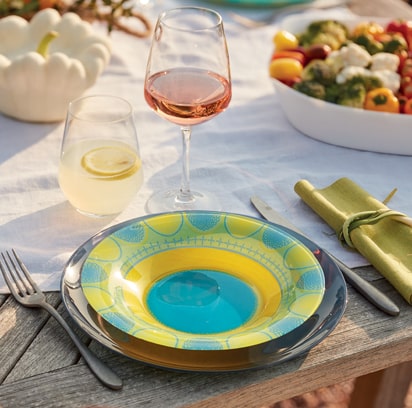 The outdoor lifestyle !
To create a warm atmosphere, use colour! The tablecloth and napkins have bright, tangy hues and the springtime decoration on the Propriano plates brings a rustic feel to your table. The Vinetis stemmed glasses are perfect for toasting your guests, their tulip shape echoing the floral and fruity touches of young wines often enjoyed during this season. And to present your tapas, crudities and other tasty little dishes, the Smart Cuisine range comes in various sizes, essential for outdoor dining!
Conviviality assured
For stress-free outdoor dining, opt for tableware that is both aesthetically pleasing and practical. You don't have to worry about breakages with the Propriano plates, as they're made in toughened glass! The Vinetis stemmed wine glasses and tumblers will enhance your tasting experience thanks to their fine glass with superior transparency, which is particularly shock-resistant. Smart Cuisine's opal glass oven and serving dishes are not only aesthetically pleasing, but also robust and easy to carry, thanks to their lightness. And best of all: everything can go into the dishwasher!
OUR SELECTION "SPRING"

Spring is on its way
OTHER INSPIRATIONS ...
Need more ideas ? YOU WILL LOVE !
A decoration for every inspiration
Our clients talk about us